The United Nations Office for Outer Space Affairs (UNOOSA), through its UN-SPIDER programme, co-chairs the working session on Science and Technology for Disaster Risk Reduction at the 2017 Global Platform on Disaster Risk Reduction, which started on 22 May 2017 in Cancun, Mexico. The session focuses on the contribution of science and technology to achieving the 2020 Sendai target on national and sub-national DRR strategies and takes place on Thursday 25 May 2017, 11:15-12:45, at Arena E.
---
UNOOSA has a long-standing engagement in promoting science and technology for disaster risk reduction. At the ground-breaking Third United Nations World Conference on Disaster Risk Reduction in Sendai in March 2015, UNOOSA took a lead in organizing a working session on "Earth Observation and High Technology to Reduce Risks". The session focused on the role of Earth observation and other technologies in supporting the Sendai Framework for Disaster Risk Reduction 2015-2030 (Sendai Framework) and contributed to the incorporation of relevant texts into the Sendai Framework.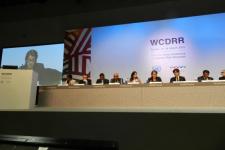 Since then, UNOOSA, through its Platform for Space-based Information for Disaster Management and Emergency Response (UN-SPIDER), has been engaged with the community that promotes science and technology for Disaster Risk Reduction (DRR). UNOOSA participated in and contributed to a number of events aimed at supporting the implementation of the Sendai Framework, for instance the UNISDR Science and Technology Conference on Disaster Risk Reduction held in Geneva. The Conference formulated a Science and Technology Roadmap, which outlines the expected outcomes and actions required from the science and technology community to contribute to the delivery of the four Priorities of Action of the Sendai Framework.
Science and technology, including Earth observation, provide critical inputs for disaster risk reduction - not only at international, national and regional levels, but also at the local level. UNOOSA, through its UN-SPIDER programme, is committed to promoting integrated applications of space technologies for implementation of the Sendai Framework.
UN-SPIDER is working on making science and technology outcomes usable for developing countries by, for instance, publishing recommended practices, links and resources and the space application segments on the UN-SPIDER Knowledge Portal. Under the EvIDEnZ project, UN-SPIDER engages in applied research on Earth observation-based information products for drought risk on a national basis. The project develops approaches to contribute to the assessment of Sendai Framework global targets and indicators related to drought. The approaches have been piloted in the Republic of South Africa and Ukraine.
---
This article was published in our latest newsletter, which can be accessed here.