Subsidence processes, sinkholes, or landslides can cause many problems. Even minor subsidence can weaken buildings and infrastructure and lead to issues such as flooding, and in worst cases abrupt disappearance of sections of land. Monitoring and predicting such processes are essential for adopting mitigating strategies.
The new European Ground Motion Service, created and offered by the Copernicus Land Monitoring Service and implemented by the European Environment Agency, provides free and accessible ground motion data.
Based on radar data from Copernicus Sentinel-1 satellite mission, the service provides information on the motion of land, structures and infrastructure in Copernicus Participating States. Its aim is to give users reliable information on ground motion at a local, regional or national scale.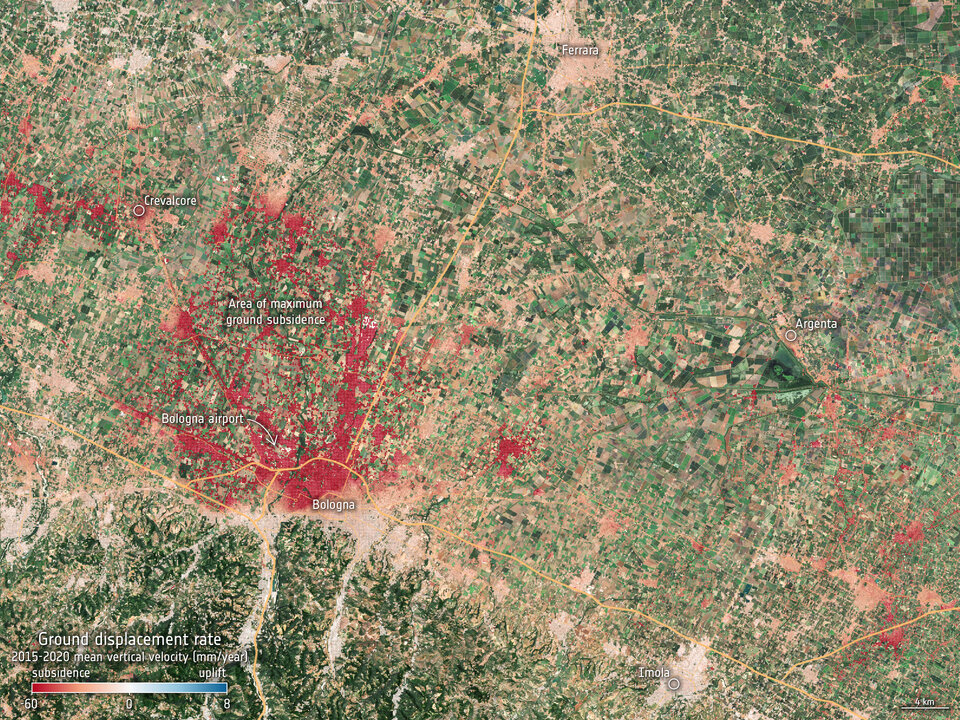 Radar images – as provided by the Sentinel-1 mission's advanced C-band synthetic aperture radar – are the best way of tracking land subsidence and structural damage.
The 'radar interferometry' remote sensing technique combines two or more radar images from the same orbital geometry over the same area to detect changes occurring between acquisitions. Interferometry allows for the monitoring of even slight ground movement – down to a few millimetres – across wide areas.
Link: Register on the European Ground Motion Service platform to view and access the data.
Link: Find more information in this news article by the European Space Agency.
Title image: Etna's uplift and subsidence (contains modified Copernicus Sentinel data (2015–2020), processed by EGMS/ESA); Link.